PART 2 RESULTS SHOW TOMORROW OVER AXN, Ch 701. Part 1 of the Finals PERFORMANCE ROUNDS just ended about 2hours ago.
Maybe this post can prove to be a "Spoiler"; I had no choice but Google for a picture and get the FOUR FINALISTS' names RIGHT! I got more than my wish; Desi is BIAISED perhaps, but I was won over from her own composed song, reinforced by her duet with coach Christina Aguilera, singing
"You've Got a Friend",
and a GOoD song choice for her third number, "Somewhere" from
West Side Story.
Another point I so agree with in this extract is the line earning se7en STARS! below:),

HIGHLIGHTED IN BLUE, my fave colour, THUS:)

~~~~~~~
So from

people.com cometh:~

~~~~
Who Will Win The Voice? Here's Our Prediction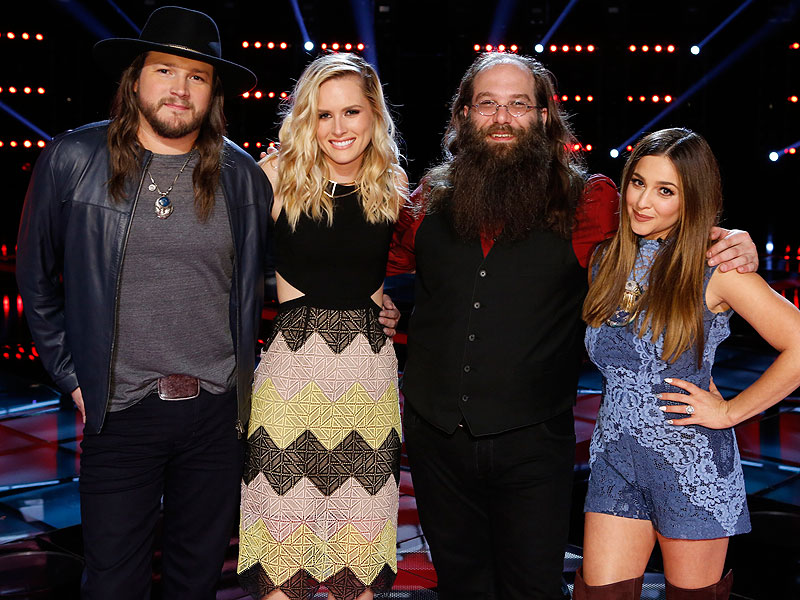 Trae Patton/NBC/Getty
Season 10 of
The Voice
has proven to be full of serious talent. From Laith Al-Saadi's roaring, blue-sy melodies to
Alisan Porter
's unbelievably powerful vocals (which, by the way, never fail to keep us wanting more), some may think the outcome is somewhat up in the air.
However, there can only be one winner and we've put together a list of why we think Alisan Porter – yes, little miss
Curly Sue
– will win Season 10 of
The Voice
come Tuesday.
1. She's overcome tough odds.
The 34-year-old, who has previously
opened up about her past struggle with alcoholism
, has come a long way since her days as a child star.
"I've waited a long time to write about my sobriety: it's a touchy subject," Porter
previously told PEOPLE
exclusively. "Also, you never know when you're going to wake up and realize the disease won. I've been profoundly affected by so many losses of late and if I can help just one person, one former child actor or especially one mother, this will be worth it."
After
landing a spot
on coach
Christina Aguilera
's team, Porter has remained more than grateful.
"I've just really enjoyed the process and it's fueled the fire again within me," she
told PEOPLE
. "Any reservations I had got squashed the second I stepped on stage to do my blind audition, and I just feel super comfortable and excited about going forward."
2. She dominated the first-ever Eagles song in the history of The Voice.
Last week, Porter sang her own rendition of The Eagles' classic "Desperado," making history ... with help from her coach, Aguilera, who pulled a few strings.
"Christina actually was the only person that was able to get the song cleared," Porter told reporters after the show. "Her manager happens to be The Eagles' manager as well. We found the song. It was a struggle, for at least me, to find a song for this week. Finally, we chose it, and we had to get it cleared, and the only person who could do it was Christina."
She added, "I marched in her trailer and said, "Coach, please? Can you make a phone call?' She did, and actually, it was so smooth. I'm so grateful to those guys for letting me sing their song because it really was a special moment for me. I think my favorite – ever."

3. Getting goosebumps every time she sings has become the new norm.
Whether she's
slaying
Demi Lovato
's "Stone Cold" or jamming out to Aerosmith's "Cryin," every one of her performances ends with a lasting standing ovation.
In fact, she's so good, she made Aguilera cry during a beautiful rendition of "Let Him Fly," which was dedicated to her ex-boyfriend.
4. She's a natural when it comes to being a mom and a rock star.
Porter, who has
two children
– Mason, 3½, and Aria, 2 – with her husband,
Brian Autenrieth
, has looked to Aguilera for advice on balancing motherhood and work.
"She's been the physical representation of what I want to be when it comes to being a working mom in the music business," Porter
previously said
.
Related Video: So Thats How Adam Levine Lands the Ladies on The Voice
She added, "That's been my biggest thing, just watching her. I've seen her with her kids a bunch of times; they've been here a bunch of times, and my kids have come. Just knowing that it's possible for me to be able to do that and my kids will be cool, they'll still have time with their mom and all that kind of stuff, is No. 1."
5. The Voice needs a female coach to win. It's time.
*******A female coach has never won in the history of The Voice. This needs to change, and we think the combination of Porter and Aguilera makes it the perfect time for a woman to win the coach bragging rights.
That being said, we understand this is a singing competition and if we had it our way, everyone would be a winner ... because, let's be honest, Laith, Hannah Huston, Alisan and Adam Wakefield are all more than capable of taking home that trophy. Who will it be this season?
The Voice
's two-day finale will air Monday and Tuesday (8 p.m. ET) on NBC.