From bloomberg.com:~~~~~~~~
Elie Wiesel, Auschwitz Survivor Who Wrote for Dead, Dies, 87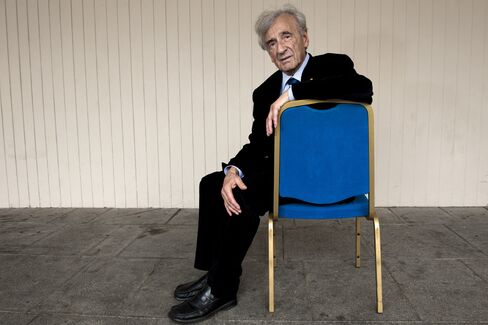 Nobel Peace Prize winner devoted his life to bearing witness

Wiesel lost his mother, father and sister in Nazi death camp
Elie Wiesel, whose acclaimed books chronicled his tortured memories of human cruelty in the Nazi concentration camps that killed his parents and younger sister, has died. He was 87.
He died Saturday at his home in New York, according to Simmy Allen, a spokesman for Yad Vashem, the Holocaust memorial organization in Jerusalem.
For more than five decades, Wiesel played a central role in efforts to remember, mourn and learn from the near-extermination of European Jews in World War II, admonishing the world about humans' capacity for unconscionable cruelty.
"Elie Wiesel was one of the great moral voices of our time, and in many ways, the conscience of the world," President Barack Obama said in a statement. "He raised his voice, not just against anti-Semitism, but against hatred, bigotry and intolerance in all its forms. "
Witness and Scholar
"Night," Wiesel's 1960 autobiographical novel, established him as a leading witness and scholar of the
Holocaust
, selling an estimated 10 million copies in 30 languages. The book's teenage protagonist, based on Wiesel's own experiences, is shocked to witness the depths of depravity as he endures the
Auschwitz
and
Buchenwald
concentration camps. It's enough to make him question the God he grew up studying and worshiping.
"Never shall I forget that night, the first night in camp, which has turned my life into one long night, seven times cursed and seven times sealed," Wiesel's character says of his first night at Birkenau, the reception center for Auschwitz.
It was upon arriving at Birkenau, in 1944, that Wiesel last saw his mother and witnessed babies being sent to their deaths in a crematorium. By the end of that first night, Wiesel's character in "Night" is forever transformed: "The student of the Talmud, the child that I was, had been consumed in the flames. There remained only a shape that looked like me."
More than 40 other books followed "Night," including the semi-autobiographical novels "Dawn" and "Day," which filled out a trilogy based on his life experience.
Nobel Prize
In 1986, the Norwegian Nobel Committee awarded Wiesel the
Nobel Peace Prize
, calling him "one of the most important spiritual leaders and guides in an age when violence, repression and racism continue to characterize the world."
The Romanian-born Wiesel found asylum in France after the war and discovered that his two older sisters had also survived. He became a journalist in France and Israel, then moved to New York in the 1950s and worked for the Jewish Daily Forward, a Yiddish-language newspaper. He became a U.S. citizen in 1963.
He had been a professor at Boston University since 1976 and also held faculty positions at City University of New York and Yale University. From 1980 to 1986 he served as founding chairman of the U.S. Holocaust Memorial Council, which in 1993 opened the U.S. Holocaust Memorial Museum in Washington.
Many Causes
With his wife, Marion, he formed the
Elie Wiesel Foundation
for Humanity to "combat indifference, intolerance and injustice." Among other causes, he supported Soviet Jews, Ethiopian-born Israelis, refugees from Cambodia and blacks suffering under the apartheid regime in South Africa, as well as victims of famine throughout the African continent.
Receiving a Congressional Gold Medal at the White House in 1985, Wiesel confronted U.S. President Ronald Reagan on his plan to visit a cemetery in Bitburg, West Germany, that held many graves of members of Adolf Hitler's Waffen SS.
"That place, Mr. President, is not your place," he said. "Your place is with the victims of the SS." Reagan went ahead with the visit, adding a stop at the
Bergen-Belsen
concentration camp while in Germany.
Wiesel, "more than any other single writer of the postwar years, educated this generation to the absolute need not only to remember but continually to confront the anguish and mystery of the Holocaust," Alvin H. Rosenfeld and Irving Greenberg wrote in the introduction to "Confronting the Holocaust," their 1978 book on Wiesel's impact. "His writings have come to embody the witness and the crisis of facing this event."
'I Was Duty-Bound'
In a chapter for the book, Wiesel wrote, "I never intended to be a philosopher, or a theologian. The only role I sought was that of witness. I believed that, having survived by chance, I was duty-bound to give meaning to my survival, to justify each moment of my life. I knew the story had to be told."
Eliezer Wiesel
was born Sept. 30, 1928, in the Transylvanian town of Sighet, part of Romania. His father, Shlomo, was a shopkeeper.
The family was part of a tight-knit Jewish community, and Wiesel immersed himself in his studies of Judaism, Hebrew and the Hasidic tales passed along by his mother, Sarah, from her own father.
Brush With Mengele
He was 15 when, in 1944, the town's 15,000 Jewish residents were put in a ghetto at the orders of the Nazis. Wiesel, his parents and his three sisters were sent by train to Auschwitz, where the family was split into separate lines for men and women. Wiesel and his father were assigned to hard labor, rather than immediate death, by a flick of the baton wielded by an SS officer who Wiesel later learned was
Josef Mengele
, the Auschwitz "Angel of Death" who performed heinous experiments on some camp inmates.
Wiesel's mother and youngest sister, Tzipora, were sent to their death. With his father, Wiesel endured beatings and near-starvation at Auschwitz and later at Buchenwald, where the elder Wiesel died, after one last beating, in the final months of the war.
Liberated from Buchenwald by Allied troops in 1945, Wiesel was in a group of war orphans sent to France, where he studied philosophy and literature at the Sorbonne and worked as a choir director, then as a journalist.
Sailing to Brazil to cover a story in 1954 and nearing the end of a self-imposed 10-year silence about his wartime ordeal, he poured his story of the concentration camps onto paper, in Yiddish.
'Wrote to Testify'
"I wrote feverishly, breathlessly, without rereading. I wrote to testify, to stop the dead from dying, to justify my own survival," he recalled in a 1995 memoir.
The resulting manuscript was published in 1955 in Argentina, to little notice, as "Un di Velt Hot Geshvign," or "And the World Remained Silent." The following year, at the urging of French writer
Francois Mauriac
, Wiesel translated the work into French, and it was published in 1958 as "La Nuit," or "Night." An English version was published in the U.S. in 1960.
It had limited early success. The first run of 3,000 copies took three years to sell. Wiesel gained a larger following in the 1970s, as American colleges began delving into Holocaust studies. In 1976, the National Jewish Conference Center in New York convened a meeting on "The Work of Elie Wiesel and the Holocaust Universe."
Oprah's Book Club
By the late 1990s, "Night" was widely assigned in high schools and colleges and sold around 400,000 copies a year, according to the New York Times.
In 2006, after talk-show host Oprah Winfrey chose "Night" for her book club, it reached No. 1 on the Times' bestseller list for paperback non-fiction. An estimated 3 million copies were sold of an updated edition, translated by Wiesel's wife, with a new preface by Wiesel.
"If in my lifetime I was to write only one book, this would be the one," he wrote.
Wiesel's other
books
included "The Jews of Silence" (1966), about his encounters with Jews in the Soviet Union, and "After the Darkness: Reflections on the Holocaust" (2002); the novels "A Beggar in Jerusalem" (1970), about the Arab-Israeli war of 1967, and "The Testament" (1981), about a Russian father confessing to his son about his support for communism; "Souls on Fire" (1972), a collection of Hasidic tales; and the play "The Trial of God" (1979).
Madoff Victim
He and his wife lost their life savings, and his foundation lost an estimated $15.2 million, to the Ponzi scheme perpetrated by Bernard Madoff.
"This was a personal tragedy where we discovered all of a sudden what we had done in 40 years -- my books, my lectures, everything -- was gone," Wiesel said in 2009, the Times reported.
Wiesel and his wife married in 1969. They had a son, Shlomo-Elisha. Wiesel also had a stepdaughter, Jennifer, from his wife's first marriage.
"Elie did more than just bear witness, he acted," said Obama. "Just imagine the peace and justice that would be possible in our world if we all lived a little more like Elie Wiesel."