UPDATEd
@2.20PM Mondae 3 Oct 2016 after hefty lunch because my comrades.
From
steadyaku47
again:~~~~~
Monday, 3 October 2016
Time for Malaysia's Najib to Step Aside
Prime Minister Najib Razak insists
he will
cooperate with international authorities charged with investigating a massive misappropriation of funds from 1Malaysia Development Berhad (1MDB), saying he is equally concerned about good governance.
But if he was serious – and believed his own sermons about the strength of Malaysia's governance – then he would listen to pro-democracy advocates, like Bersih, and live up to the best of democratic traditions by standing aside until investigations are completed.
"We are equally concerned about good governance in Malaysia and the rule of law," the prime minister recently told journalists. "So within the bounds of good governance and the rule of law, Malaysia will do its best to cooperate and to do whatever is necessary."
Rarely has any regional leader come under attack for such a sustained period amid a raft of controversies linked to stolen money, murder, international finance, and military contracts.
Bersih is planning a protest rally on November 19, demanding Najib's immediate resignation and calling for an independent investigation into the 1MDB, which was founded by Najib in 2009 to invest in strategic property and energy projects.
Previous Bersih rallies have been met with a heavy-handed response under Najib's orders, with authorities using tear gas and truncheons.
By standing aside, Najib would not be resigning. Instead, a caretaker prime minister could be appointed by the ruling United Malays National Organization (UMNO) and the Barisan Nasional coalition.
Najib would be free to resume his post as prime minister if cleared. Until then, Najib can prepare his defense but more importantly his country and its bureaucracy can continue to function with this embarrassing mess cauterized and isolated before the courts.
Investigations into scandals of other politicians, such as former U.S. President Richard Nixon and Watergate, pale when compared with those confronting Najib, as well as the innuendo surrounding the First Lady Rosmah Mansor.
At least five other countries have also launched investigations into 1MDB and allegations of misappropriation of funds.
French courts have also initiated
legal action
over allegations of bribery with the acquisition of two Scorpene submarines by Malaysia in 2002 when Najib was the defense minister. That involved $1.2 billion in arms sales, about half the money missing from 1MDB.
In the United States, prosecutors filed civil lawsuits about two months ago alleging that more than $3.5 billion was defrauded from 1MDB. It also refers to an unnamed high-ranking official who apparently received some of the missing funds. Media reports quoting sources – including Reuters dispatches – say the unnamed official is Najib.
And both cases have been linked to murder. A young female translator, Altantuya Shaariibuu, who worked on the submarine deal, was shot and her body blown to bits with C4 explosives. An investigator from Malaysia's attorney general's department, Kevin Morais,
was found
stuffed in an oil drum filled with cement and dumped in a river.
In between, Najib's tenure has fractured Malaysian society under rising Islamic militancy and the bullying of smaller religions that
have been
banned from using words such as Allah, because they are not Muslims. He has also resisted calls for elections, not due till 2018, to be held early.
Malaysia's struggling democracy has also been blighted by
the jailing
of opposition leader Anwar Ibrahim. Human rights advocates said he was imprisoned on trumped-up charges, designed to remove him from the political landscape after he won the popular vote at the last election in 2013.
UMNO and BN were re-elected then, but with a sharply reduced majority, which was only made possible through gerrymandering. By standing aside, Najib would take the sting out of Bersih and sharply reduce the ugly scenes, like the
tear gassing
of a hospital by police in 2011, that have accompanied their demonstrations in recent years.
His resignation would also provide a much need political circuit breaker in a country desperate for some kind of respite after years of heated controversy.
careth:~~~~~
from
anilnetto.com:----
Red Shirts heckle Bersih gathering in Lumut
The attempt to intimidate those participating in the Bersih 5 Convoy has started. This was the scene at the Bersih gathering in Lumut this morning.
The above was the Bersih gathering.
Why can't the Red Shirts hold their own gathering elsewhere and allow others to gather peacefully. Is this a sign that they are losing the battle to win public opinion that they have to resort to such measures to suppress dissenting voices?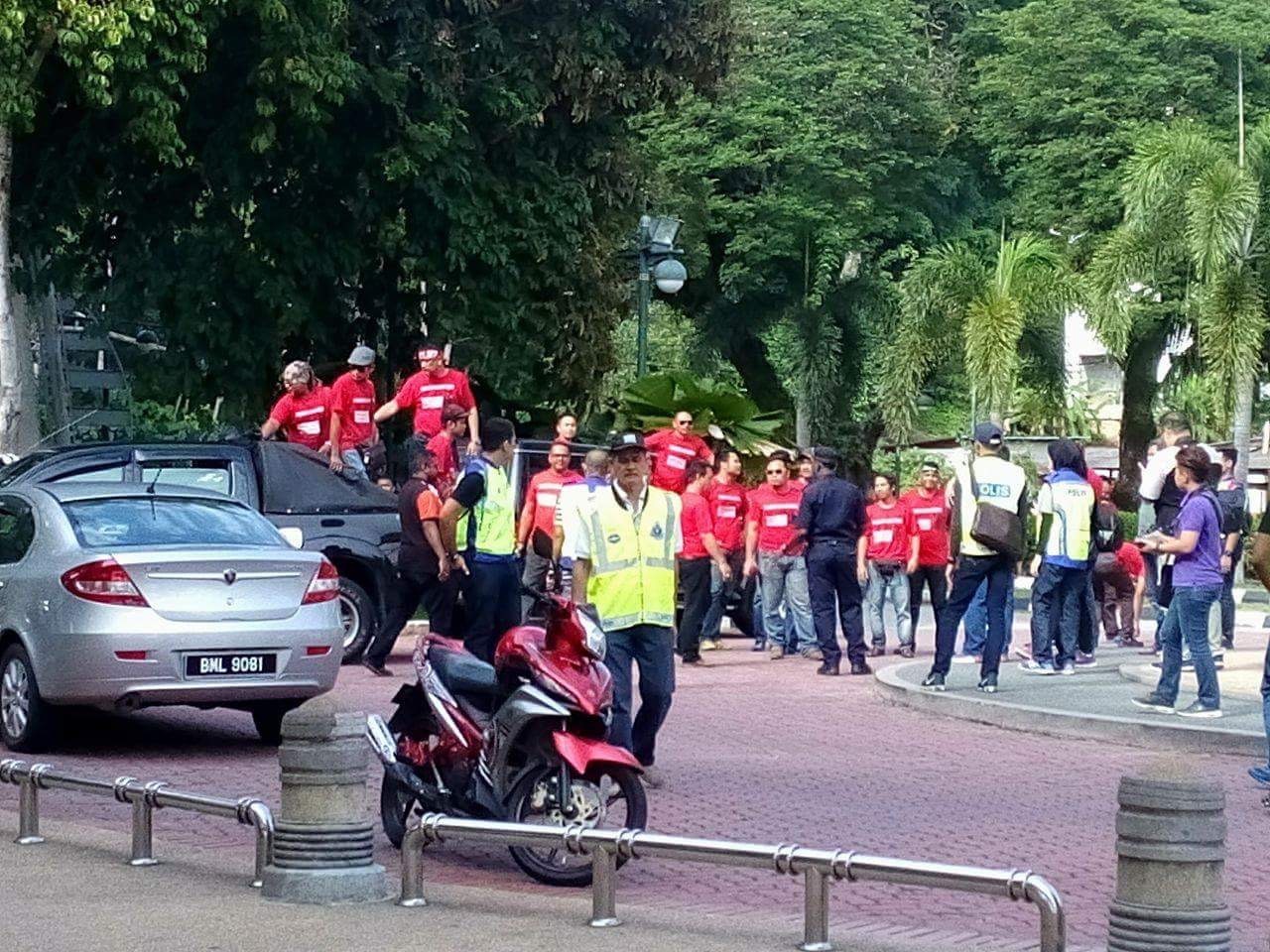 But I like the spirit shown by the Bersih supporters. See below:
DESIDERATA: These disrupters from Redshirts/Perkasa/Isma et al are well financed by the Establishment, contrast wit' Bersih supporters who hail from across nation wide paying out of their own pockets. There's NOTHING COMPARED TO DEMONSTRATION OUT OF CONVICTION to moneyed gatherings; that's my thought sharing in answer to anilnetto's following Q:
"In a democracy worth its name, they are entitled to gather and demonstrate – but they should not try and disrupt the Bersih 5 Convoy and the 19 November rally or intimidate those taking part.
Will you be taking part in the Bersih 5 convoys and rally? What do you think of the event? Your thoughts, please."
PS:
Definitely I will be dare in KL on Nov 29, 2016, insyaAllah I'm steal kicking&Alive&spirited:) -- YL, Desi